Ray and Jane attended the same Permaculture Design Certificate course, run by Rosemary Morrow in 2006 in Armidale. Since then they have continued to develop their knowledge about soils and sustainable food production and have used permaculture design to plan Banded Bee Farm which incorporates agroforestry and regenerative agriculture techniques.
Permaculture is a design science, based upon the 3 permaculture ethics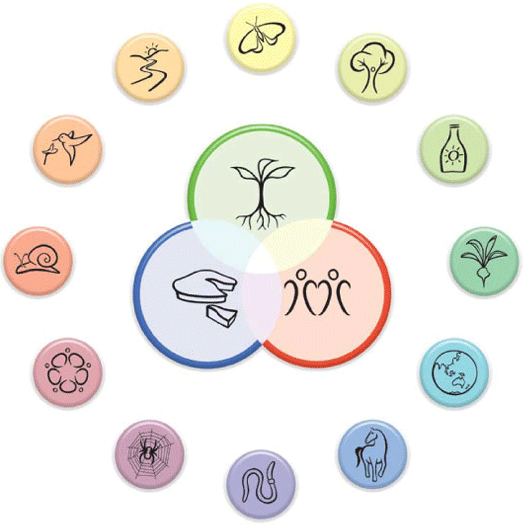 earth care
people care
fair share.
Our aim is to develop a food producing farm that
starts to heal the damage to the land at Banded Bee Farm that has occurred over the last 150 years of agriculture,
provides a home and a modest income for us, and
provides healthy food for local people, as well as education, and perhaps even inspiration for others.
Agroforestry is the use of trees (and shrubs) in the farm landscape as an integral part of the farm's structure and productivity. There are six basic types of agroforestry:
windbreaks – essential to create shelter and more favourable microclimates for animals and plant crops;
riparian and upland buffers, where trees are planted to prevent erosion, filter runoff and provide habitat for wild plants and animals;
silvopasture – animals and trees;
silvoarable – annual or perennial crops between trees;
forest gardening – planting a new forest from scratch with the intention of keeping it open enough to produce food, fibre and/or fuel, into which some animals (e.g. poultry) may be introduced; and
forest farming – cultivation of crops, e.g. mushrooms, within an established forest.
At Banded Bee Farm we plan to use the first 5 types – we cannot incorporate forest farming as there are no significant areas of established trees on our 16 hectares.
Regenerative agriculture is a relatively new term that is often used in our region to refer to sheep or cattle properties that use holistic planned grazing (developed by Alan Savory) or similar techniques, such as cell grazing, rotational grazing, mob grazing etc. This approach has been shown to be very successful both locally and around the world. However, to us, regenerative agriculture is any approach to farming that leaves the land in better shape than it was found, rather than gradually degrading as modern, chemical-based agriculture does. We have been inspired by Mark Shepard's work on Restoration Agriculture that he developed at New Forest Farm.